Product Description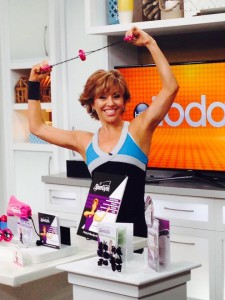 Forbes Riley SpinGym with Workout DVD – (contains 5 unique SpinGym workout PLUS Bonus)
SpinGym is the PERFECT fitness exercise! AND with 5 unique workouts on the DVD, you'll stay motivated!
It's time to shape up! SpinGym is the PERFECT fitness exercise product. This portable fitness device helps you strengthen and tone your arms, back, core and more anytime, anywhere! Define and tighten your arms, sculpt sexy shoulders and strengthen the muscles in your core, back and more. Plus, you'll find motivating and inspiring workouts by Forbes Riley on the workout DVD to add cardio and abdominal exercises to your routine. Small enough to fit in the palm of your hand, the SpinGym easily fits in a bag or briefcase so you can work out on the go.  Whether you're at your office, behind a desk, hotel room, airplane, even a cruise!
With up to 20 lbs of resistance with each pull, you'll feel the SpinGym effect instantly & you only need 5 minutes a day to see a noticeable improvement.
For FREE motivational SpinGym videos please visit http://ForbesFactor.com/spingym/testimonials   https://youtu.be/jBC4lERe-Gs
With SpinGym you'll look and feel confident in clothes that reveal your arms, chest and back!
Bottom line – you get fast results in less time!
What You Get
Forbes Riley's Original SpinGym (you choose your favorite color!)
SpinGym Basics & More workout DVD
Replacement strength cord
Instructional Manual & Training Guide: Putting a New Spin on Fitness
Bonus: Black Neoprene Carry Bag
"Fit with Forbes" membership card (Value $120.00)
reviews:
Ellen Hancock on July 28, 2015  Does what it says…. at least in the three weeks I have had it. I use it daily for 5-10 minutes, following the exercises shown on the CD. I take it in my briefcase or purse and have used it in a variety of locations away from home and office. Sometimes I use it when watching TV late in the evening – a quiet way to get in some upper body toning. I can sustain a longer practice time, I feel it building strength. I am waiting to see a difference in the shape of my arms and back.
By Charly Rodhe  on May 31, 2015 Already had one of these and wanted a purple one. I now carry one in my purse and will pull it out when able. Easy and fun to use. Due to knee problems I can't do a lot of exercises. With this you can sit down and still get great results. .

How It Works
SpinGym is a dynamic system for toning, strengthening and sculpting your arms, chest, back and shoulders. To give you the definition on the top and eliminate the sagging on the bottom.
Unlike traditional training with dumbbells and machine weights which isolate and target only one set of muscles at a time -SpinGym utilizes Gyrotronic Resistance Training (GRT). GRT is the perfect fitness exercise because it uses integrated muscle engagement, simultaneously activating major, stabilizing and core muscles – all at the SAME time.
Very limited quantities of certain colors.  Don't wait… order yours now!